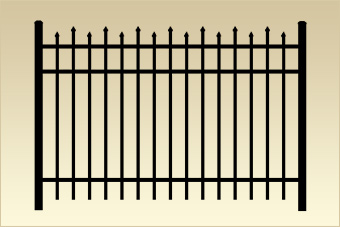 Style 100
Style #101 is our traditional wrought iron design. The points of the pickets are even across the top of the section.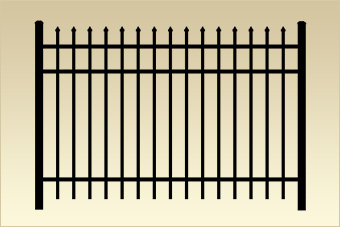 Style 101
Style #100 is a variation of #101 with staggered picket points for something a little more distinctive.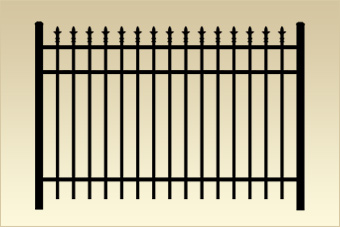 Style 111
Style #111 is a version of Style #101 that is constructed to accept Imperial or Majestic finials instead of the standard picket points.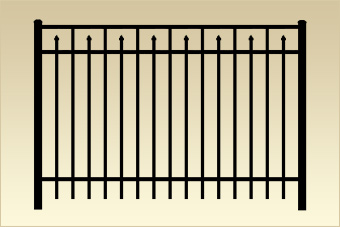 Style 200
Style #200 is a modification of #202 which combines the safety of a top rail with the traditional look of pointed pickets below the rail.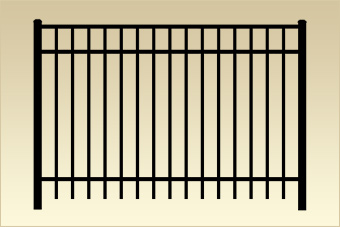 Style 202
Style #202 is a more modern design with a smooth rail on top rather than exposed picket points.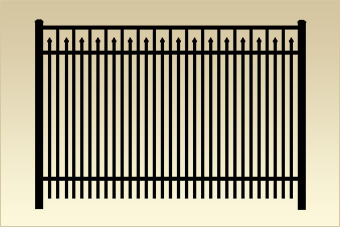 Style 400
Style #400 is similar to our Style #200 with a narrow 1-5/8″ space between the pickets below the second rail.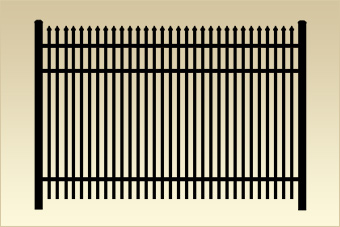 Style 401
Style #401 is similar to Style #101 but with a 1-5/8″ space between the pickets. This narrow spacing gives added safety and security by preventing footholds and keeping animals from squeezing through the fence.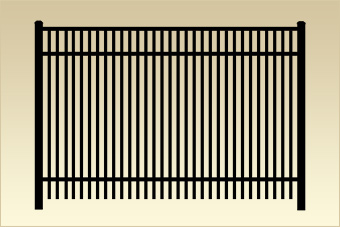 Style 402
Style #402 is a smooth top version of #401 for those who do not want exposed points on their fence.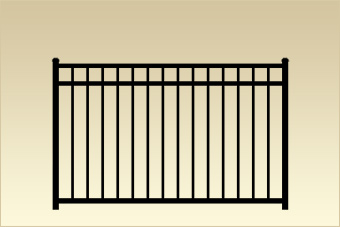 Windsor
Windsor is the less traditional version of the Buckingham with a smooth top rail, similar to Style #202. Again, no pickets extend below the bottom rail. The larger components give an regal look to this fence.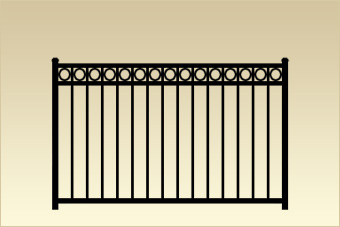 Windsor Plus
Windsor Plus is a variation of the Windsor style with rings between the top two rails.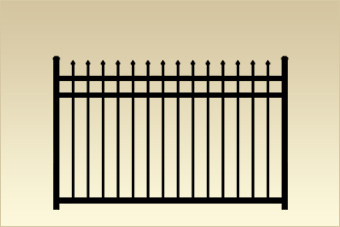 Buckingham
Buckingham is a traditional wrought iron design with pointed pickets much like our Style #101. Unlike #101 though, the pickets do not extend below the bottom rail. Larger components are used to fabricate this fence for both strength and a more stately appearance.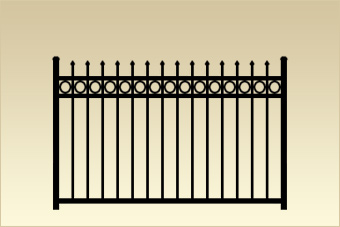 Buckingham Plus
Buckingham Plus has all of the features of the Buckingham fence, as well as rings installed between the top two rails.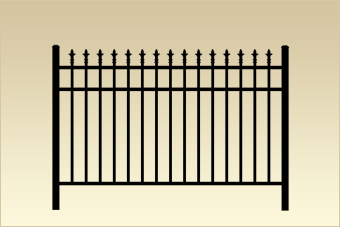 Kensington
Vinyl Fencing – Contemporary Picket
Scalloped Top – 3″, Picket – Wide Space
36″ High X 72″ Wide (69″ Coverage) Section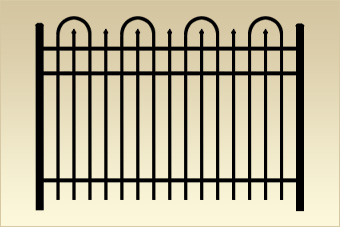 Concord
Concord has a distinguished "Old World" wrought iron design with elegant curves connecting some of the pickets. This style is available with either standard picket points or finials inside and between the arches.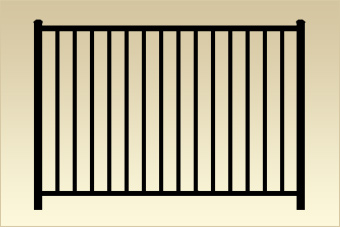 Ovation
Ovation is a simple design which uses larger rails and pickets to meet most swimming pool enclosure codes without sacrificing strength. No pickets are exposed either above or below the rails for added safety. In addition, all Ovation style gates are equipped with a pool safety latch, similar to the one shown on the left. This latch has a built-in keylock and is magnetic triggered for reliable latching every time.